Apple Tansy
Take three pippins, slice them round in thin slices, and fry them with butter; then beat four eggs, with six spoonfuls of cream, a little rosewater, nutmeg, and sugar; stir them together, and pour it over the apples; let it fry a little, and turn it with a pye-plate. Garnish with lemon and sugar strew'd over it.


Colonial Williamsburg
Apple Tansy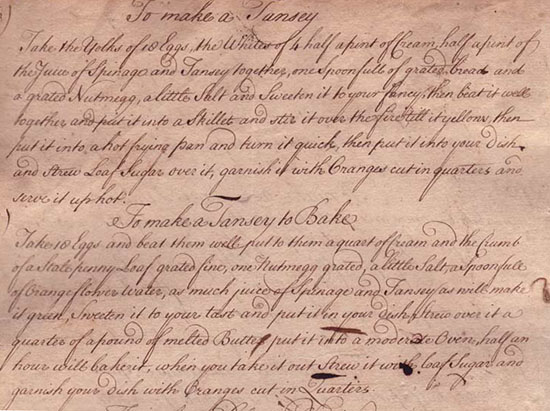 The Compleat Housewife, by E. Smith, published in London, 1754
Clear Candy
Take six Ounces of Water and four Ounces of fine Sugar, searc'd, set it on a slow Fire to melt without stirring, let it boil till it comes to a strong Candy; then have ready your Peel or Fruit scalded hot in the Syrup they were kept in, drain them very well from it, and put them into your Candy, which you must rub on the sides of your Bason with the back of your Spoon till you see the Candy pretty white; take out the Fruit with a Fork, touch it not with your Fingers: If right, the Candy will shine on your Fruit, and dry in three or four Hours in an indifferent hot Stove: Lay your Fruit on Sieves.


The Compleat Housewife, by E. Smith, published in London, 1754, p.122
Keeping Fruit in Syrup to Candy
If you candy Orange or Lemon-peels, you must first rub them with Salt; then cut in what Fashion you please, and keep them in water two Days; then boil them tender, shifting the Water you boil them in two or three Times; you must have a Syrup ready, a Pint of Water to a Pound of Sugar, scald your Peels in it till they look clear. Fruit is done the same way, but not boil'd till you put them in your Syrup; you must heat your Syrup once a Week, taking out your Fruit, and put them in again while the Syrup is hot; they will keep all the Year.


The Compleat Housewife, by E. Smith, published in London, 1754, p.122
Orange Marmalade
Take the best Sevil Oranges and weigh a Pound of them, then pare off all the Yellow Rind very thin, quarter the Peel and put 'em in Water; cover 'em down close, and shift the Water six or seven Times as it boils to take the Bitterness out, and that they may look clear, and be tender; then take them out, dry them in a Cloth, take out all the Strings, and cut 'em thin as Pallets; then take a Pound of double-refin'd Sugar beaten, and boil it with a little Water to a candy-height, scum it clean and put in your Peels; let them boil near half an Hour; have in readiness your Orange-meat all pick'd from the Skins and Seeds, and the Juice of two large Lemons, and put it into the Peels, and boil all together a quarter of an Hour longer; so glass it up, and paper it when cold.


The Compleat Housewife, by E. Smith, published in London, 1754, p.121
Orange Cakes
Cut your Oranges, pick out all your Meat and Juice free from the Strings and Seeds, and set it by; then boil it and shift the Water till your Peels are tender, dry them in a Cloth and mince them small, and put them to the Juice; to a Pound of that weigh a Pound and half of double refin'd Sugar; dip your Lumbs of Sugar in Water and boil it to a candy-height; take it off the Fire adn put in your Juice and Peel, stir it well, and when xx almost cold put it in a Bason and set it in a Stove; then lay it thin on earthen Plates to dry, and as it candies fashion it with your Knife; and as they dry lay them on Glass; when your Plate is empty, put more out of your Bason.


The Compleat Housewife, by E. Smith, published in London, 1754, p.121
Thomas Jefferson's Vanilla Ice Cream


Library of Congress
Martha Jefferson's Cream Cheese, from Mrs. Adams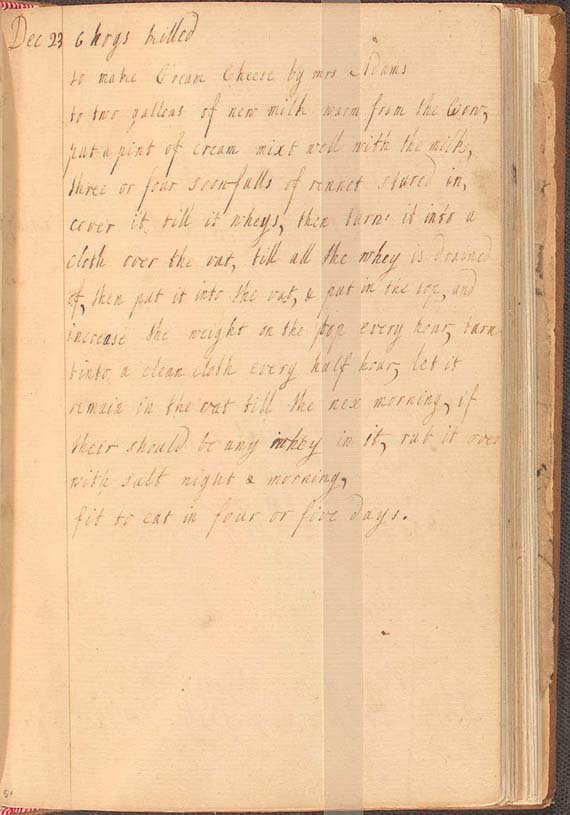 Library of Congress
Wassail
Modernized
Combine in a crockpot 1 gallon apple cider, 1 large can pineapple juice (unsweetened), and 3/4 cup tea (can use herb tea).
Place in a cheesecloth sack, tie, and put into crockpot: 1 Tablespoon whole cloves, 1 Tablespoon whole allspice, and 2 sticks cinnamon. Simmer very slowly for 4 to 6 hours. You may add water if it evaporates too much.

Colonial Williamsburg
Dried Apples
Modernized
Peel the apples. To remove the cores and seeds, use a corer or sharp knife to cut a cylinder out of the center of the apple from the stem end to the bottom. Slice the apples into rings 1/4 inch thick. Run an 18" string through the rings. Leave space between the slices so that all surfaces of each ring are exposed to the air. Hang the apples in a cool dry place. Once the apples have become wrinkled and dried, usually in a few weeks, you can take them down and eat them! Store extras in a covered container out of direct sunlight.


Paul Revere House
Martha Washington's Great Cake
Modernized
Take 40 eggs and divide the whites from the yolks and beat them to a froth. Then work 4 pounds of butter to a cream and put the whites of eggs to it a Spoon full at a time till it is well work'd. Then put 4 pounds of sugar finely powdered to it in the same manner then put in the Yolks of eggs and 5 pounds of flour and 5 pounds of fruit. 2 hours will bake it. Add to it half an ounce of mace and nutmeg half a pint of wine and some fresh brandy.
In making the great cake, Mount Vernon's curatorial staff followed Mrs. Washington's recipe almost exactly. Where the recipe called for 5 pounds of fruit, without specifying which ones, 2 pounds of raisins, 1 pound of currants, and 2 pounds of apples were used. The wine used was cream sherry. Since no pan large enough was available to hold all the batter, two 14" layers were made and stacked (note: the original was one single tall layer). The layers were baked in a 350 degree oven for 1.5 hours. Should be iced with a very stiff egg-white based icing, flavored with rosewater or orange-flower water.


Mount Vernon
Colonial Hot Buttered Rum
Modernized
Combine in a crockpot 2 cups firmly packed brown sugar, 1/2 cup butter or margarine, 1 pinch salt, 3 sticks cinnamon, 6 whole cloves and 1/2 teaspoon ground nutmeg. Add 2 quarts hot water. Stir well. Cover pot and cook on LOW for 5 hours.
Add 2 cups rum; stir to blend. Serve from pot in warm mugs with a scoop of whipped cream and a dusting of nutmeg.


Recipe Network Website