The green-painted barn stands on the left of The Lane Loop trail, just past the deer fence. The barn has been added onto over the centuries, the farthest part from the road having been probably built by Henry in the 18th century, the rest being added later by other Locust Grove owners. Just past the barn are the remains of a well-made stone fence from the days of the Young family.

The original part of the barn has a two story interior, and a basement. The basement has an exterior door and a dirt floor, so might have been for livestock. The large, two story first floor was originally a hay barn, entered by huge barn doors, and having a wide plank floor, a huge hayloft, and enormous hand-hewn beams in the roof.

On the north end is a barn section having a hardwood floor and a little staircase going up to a finished loft. There is no documentation as to the original use of this part of the barn, but it might have been used for storage of barrels, or sealed containers that would have been safe from the small animals that would have been able to get into the unsealed barn.

The other parts of the barn were likely built by the Young family. At the north end, a pair of double doors open onto a long wing that travels to the east. This is the cow barn, broken into stalls headed by a long, continuous trough for easy feeding of the herd.

The east end of the barn is the only part with a partial brick wall. It's thought to have been used as a horizontal silo, the brick walls acting like a brick tank, where silage would be able to take place to produce the final mash.

Around the outside of the barn is a large pasture where cows would have grazed on the hay in the summer, before the hay was harvested and put in the barn for the winter.

Today the barn contains only old farm machines and implements.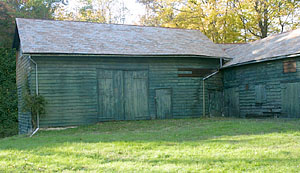 Click on image for more pictures of the barn area
Back to Top