SWEET PASSION OF LOVE

2

The frost nips the land & the rose cannot blow
From youth that is frostnip'd no raptures can flow
Elysian to him but a desert would pour
While life without passion, sweet passion of love

3

The spring should be warm the young season be gay
Her birds and her flowrets make blithsome sweet May
Love blesses the cottage and sings thro the grove
What's life without passion, sweet passion of Love?

SWEET PASSION OF LOVE
Favorite Song In Cymon
Appears in:
A Pocket Book for the German Flute, 1778.
Early American Secular Music and Its European Sources 1589-1839

Garrick, David. Cymon. A dramatic romance. As it is performed at the Thetre-Royal, in Drury-Lane. London: T. Becket and P.A. De Hondt, 1767. The music by Mr. Arne. Founded on Dryden's Cymon and Iphigenia. Garrick is supposed author. PR3467.C9.1760 (University of British Columbia)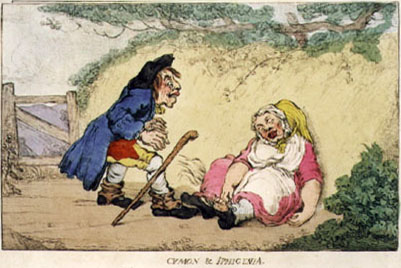 In 1796, T. Adams (Gillray) published a burlesque of the discovery of Cymon by Iphigenia from Garrick's adaption of Dryden's version of the Boccaccio tale.
A painting of Cymon and Iphigenia was in the collection of the Prince of Wales.
Published in N.Y. Weekly Museum, 14 Feb 1799.