U.S. FDC: 13˘ Christmas Combination (Omaha, NE): Christmas Series
First Day of Issue: October 21, 1977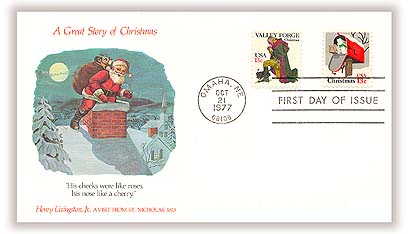 ---
Further Information about this issue:
It is said that Washington Irving, one of America's earliest authors, had much to do with the renewed popularity of St. Nicholas in the early 1800's. He even founded a "St. Nicholas Society." But it was the appearance of a catchy story, which begins, "Twas the night before Christmas, when all through the house . . ." which spread the word of Santa Claus and practically made him an American invention. For years it was thought that Clement Clarke Moore wrote and first published the story in 1844. But it has come to be accepted by scholars that Henry Livingston, Jr. (1748-1828), who had been a major in the Revolution, wrote it about 1800, a time when America was searching for its own traditions. Published anonymously in 1823 and titled An Account of a Visit of St. Nicholas, the colorful description of Santa Claus firmly established one vision in America's imagination: "His eyes -- how they twinkled! his dimples, how merry! His cheeks were like roses, his nose like a cherry! He had a broad face, and a little round belly, That shook when he laugh'd, like a bowlful of jelly." Yes, this is the symbol of Christmas for millions of children. And if it weren't for this delightful poem, one thing is for sure, Santa Claus wouldn't be the same "right jolly old elf" we know and love.
Original painting for the Fleetwood® First Day Cover by Charles Berger. Actual size: 6-1/2 x 3-5/8 inches. Reverse of FDC contains historical background text.
First Day Cover Design and text ©1977 Fleetwood®. A Unicover® Edition. All rights reserved.
---
Information about Ordering:

If you plan to order any of the above items you can do it any of three ways:

Use Express Shopping: Simply click the "Add to Cart" Button for the item you want to order. This puts the item in your Express Shopping Cart, where you can change the quantity or remove it. When you've finished putting items in your Express Shopping Cart, Go to the Shopping Cart and choose your options from there.
Use QuickNavigation. You'll want to be sure to write down the following "8-character Order Blank Code": CASD-JS01 Also be sure to copy down the Stock Number (SKU) of each item you wish to order.
Orders from this Offer (CASD) are only accepted through our web site. This is because of special pricing which is available to www.unicover.com buyers. If you have any questions dial TOLL FREE 1-800-443-3232 from throughout the U.S. and Canada.
A Flat Shipping and Handling Charge of $3.50 is added to all orders under this offer (Offer Code:  CASD ).
---
---

Log Off | Home | Feedback | Mailing List | About Us | What's New | Fleetwood | Stamp Agencies | Coins | Stamps | Other Sites
Customer Service | Site Search | Shopping Cart | Gallery of Artwork Originals | Terms of Use | Trademarks | Privacy Information
Fleetwood 75th Anniversary Sweepstakes

Last Updated: November 20, 2004 1:38.44 MT | Copyright © Unicover Corporation 1997-2004. All Rights Reserved.

---